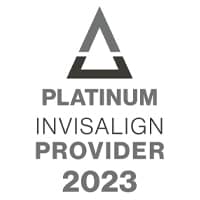 Do you ever wish for a straighter, healthier smile but without all the metal wires and bands that go along with traditional braces? At Sorensen Orthodontics we can make your dream of having a new smile come to life.
Dr. Travis A. Sorensen is a certified Invisalign provider, and he has already treated many patients with this with leading-edge appliance system. If you're looking for an innovative solution for transforming your smile, Invisalign offers an effective and comfortable way to wear braces —and they look great too!
Want to know if Invisalign is right for you? Reach Out to Learn More
What Is Invisalign?
The Invisalign treatment consists of a series of removable, clear plastic aligners that are designed to gently and gradually move your teeth into place. We use a scanner called iTero to take incredibly accurate digital impressions of your teeth. This 3D technology allows us to predetermine your treatment plan and show you the results you would achieve, even before you start your treatment.
Never before has an orthodontic treatment been so precise and convenient. The system can help you achieve stunning results through your very own, customized treatment plan.
Why Consider Invisalign?
People everywhere are beginning to experience the benefits of Invisalign treatment. Many people just like you are choosing Invisalign over traditional braces. These aligners allow you to:
Achieve a straighter, healthier smile
Avoid the noticeable wires and brackets
Enjoy your favorite foods and drinks
Brush and floss regularly
Continue your day-to-day routine
Keep doing the sports and activities you love
Visit us for less appointments
Experience quick, painless checkups
Sound like the perfect solution?  Contact Us to Get Started
How Much Does Invisalign Cost?
While the exact cost of Invisalign treatment varies from patient to patient, we offer affordable options for investing in your smile:
Flexible down payment options
Finance-free monthly payment plans
Various Flex Plan payment arrangements
Most major credit cards accepted
We also suggest that you talk with your insurance provider to determine if orthodontic treatment is included in your dental plan.
Invisible Braces for Adults and Teens in Seattle, WA
Since Invisalign is nearly invisible, you can straighten your teeth without anyone knowing. This makes it a great treatment option for teens and adults who are worried about traditional braces affecting their appearance or disrupting their lifestyle.
The aligners are removable and comfortable to wear. You can remove before a pizza date and don't need to worry about them getting in the way of sports or other extracurricular activities. They're also the ideal choice for working professionals who are concerned that metal braces may make them look unprofessional.
Ready to get started? Schedule Your Free Consultation